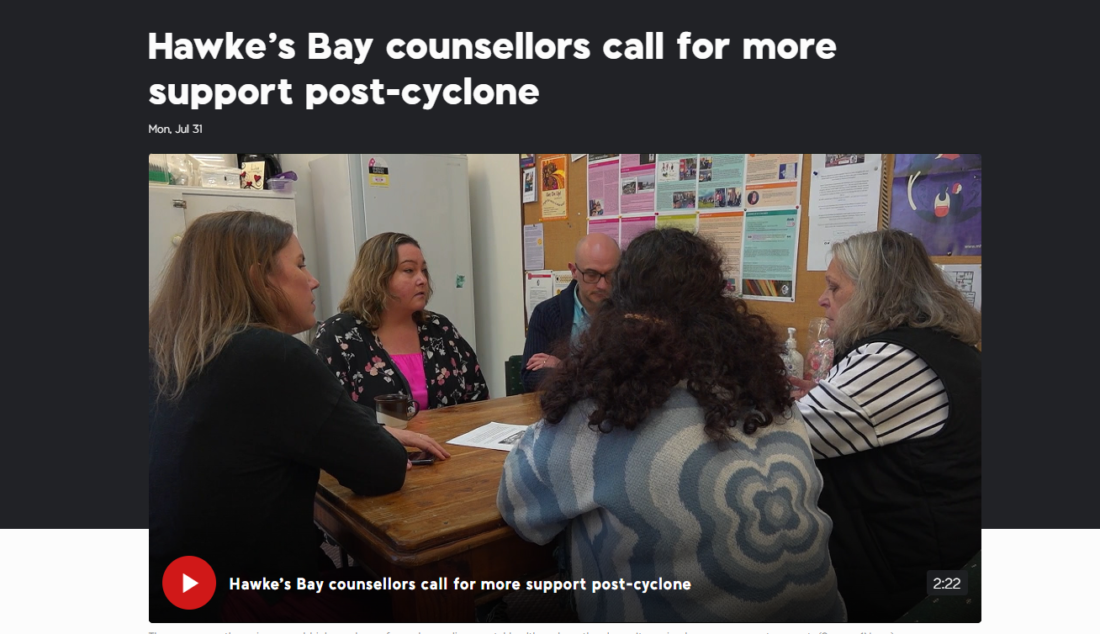 1 News helps our call for more support
Napier Family Centre took part in a 1 News story last week,  discussing the struggle for NGOs like us get answers about Cyclone recovery funding announcements. Reporter Henry McMullan echoed our call to get clarity around where the recovery funding will go, and when. Read the full story below and check out the video through the link. 
Hawke's Bay counselling services have recorded record high numbers of people needing mental health support but say they haven't received any of the government support announced to combat the spike caused by Cyclone Gabrielle.
Farmers have been getting together since the devastating extreme weather event, sarong coffee kai and stories.
A big issue for the farmers is a lack of equipment.
The Rapid Relief Team, a global charity, has donated 500 tonnes of fencing equipment which is sorely needed in the region.
"The fencing is one part of the equation it's the tangible side of it. The most important is to get these farmers in with all these service providers here," Matthew Smith from the Rapid Relief team said.
It's something that is incredibly important for the farmers.
"Every bit helps. It just means someone is looking out for us, someone else is out there that cares about the community and the farming guys we're just really struggling at the moment with stuff," Campbell Prendergrast, a farmer, told 1News.
But they are not the only ones having a hard time. Some local health providers are struggling to meet the growing mental health needs left by Cyclone Gabrielle.
"Looking at our counselling services, in particular, we are extremely busy. We've seen a significant increase of over 30% based on last year," the Napier Family Centre's Kerry Henderson said.
"Our rangatahi and youth counselling, we've seen a 150% increase, we also do food, and over May, in particular, we had as many food parcels as we did in December, which is usually our significantly busy period so we're seeing a lot of need."
There is now a three-week wait for a counselling session at the Napier Family Center due to a shortage of staff and funding. They want things to change.
"The arms of bureaucracy have to work quicker," Henderson said.
"The money is there it's earmarked why can't you trust agencies that have been here for 40 years that understand the needs that, work with the community, and just empower us to help the community quicker and better because we are going to get better success."
In a statement, Te Whatu Ora says it's appointed a Mental Health Wellbeing Lead to connect with communities and providers.
It also said there's a process for funding applications, and they'll contact the Napier Family Centre to ensure it knows how that works.
"We do have a programme to support more community groups, and that funding will be available soon," Health Minister Ayesha Verral said.
But the Napier Family Center wants urgency.
"We haven't seen a cent of it. It hasn't come through for our services," Henderson said.
"mental health and well-being don't have a start and end date, I appreciate everything has to fit into budgets, but people don't fit into boxes, and we've got to make sure there's the sustainability of funding coming through."
Check out the story on 1 News website here: www.1news.co.nz/2023/07/31/hawkes-bay-counsellors-call-for-more-support-post-cyclone/