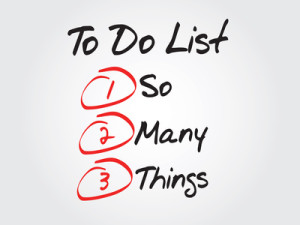 Busy !
Busy! A catch-cry response to the 'how's it all going?' question these days for so many people. More often the busy-ness expressed is to describe an unwelcomed feeling of being rushed, or of feeling of being under pressure to manage a lot in a limited timeframe. If feeling too busy and stressed has become a norm we should not underestimate the consequences on health and wellbeing and of the anxiety feelings of overwhelm creates. A parent or caregiver feeling over-taxed can also feel a burden of guilt and worry their children may not be able to get the attention they need. Relationships can become strained if communication breaks down as one or both of the partners are fatigued from a high workload. Dr Libby Weaver described the pressing rush to do it all and the fears of being out of control from a woman's perspective as Rushing Woman's Syndrome. If we ask 'How's it going?' and the answer is 'Busy' do we just register this as a norm or enquire sensitively how our family member, friend, colleague or partner is coping with that busy-ness?
A child's life has become really busy too. Transitions to childcare, early learning centres; for school children there's before school and after school care and the many available activities children can do keeps them on the go. Having time to relax and recover from a full-on schedule is important for children as well as adults.
Homebased early childhood education and care offers parents the option to have their under-five year old experience early learning in a home environment that is unhurried.
A busy toddler of course can be a joyous wonder as they have a natural urge to explore their world and how everything works – like running taps, cupboards, things that tip, their running and climbing legs! With no more than four children in care the educarer is able to take each day at the children's pace.  A child is therefore busy simply being a child. They still benefit from the Te Whāriki curriculum and are supported by ECE specialists.
Napier Family Centre has licensed services in both homebased ECE and a centre. Bright Futures is our homebased ECE network throughout Hawkes Bay and Sunny Days is our centre in Marewa. More information at https://www.napierfamilycentre.org.nz/our-services/early-childhood-education/