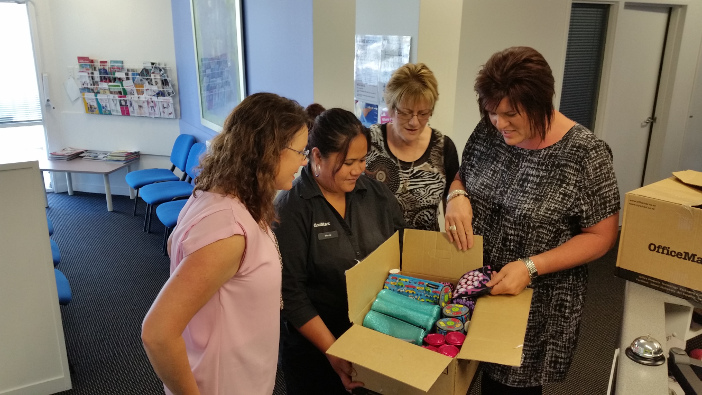 Local businesses rally to support Christmas Cheer
Napier Family Centre's Christmas cheer programme is under way now. This is our annual gifting programme which helps bring Christmas joy to children and families who are facing hardship this Christmas. We have 361 people on our Christmas list for 2015 that includes 228 children (aged from 2 months – 16 years)
2015 is Christmas Cheer's 16th year. Each year we have reached around 80 families and over 200 children.
With a tried and tested recipe of generous gifting by Napier Girls High School, parishes and local businesses, a superb food appeal from Napier City Council and some special community spirit we are proud to bring relief and happiness to so many families each Christmas time. So we can and we must continue to do our best for them.
2015 has been another tough year for many, even we were surprised by the level of need with 360 requests for food parcels and 1700 individuals receiving help through our counselling, budget advice and family support services.
Small businesses can contribute anything from a packet of coffee to stationery items.  Our deep thanks to the Napier OfficeMax branch and our supporters at SBS Bank for donating stationery items, colouring pencils, balloons, key rings, lollies, ice scrapers and noise makers .
To help us with Christmas Cheer, please consider purchasing an extra gift or food items this year. Donated items can be dropped in to our offices on the corner of Wycliffe Street and Morris Spence Avenue weekdays from 9am to 4pm. All items are gratefully accepted.